After the much anticipated collaboration between Mercedes-Benz and Virgil Abloh, there are finally visuals of the reimagined vehicle. Abloh is the artistic director of Louis Vuitton Menswear and also is the founder of popular clothing brand Off-White, he has made major contributions to the art industry and once again he is entering new industries and teaming up with world-class brands and adding his creative flair to classic designs.
Both Virgil Abloh and chief design officer at Mercedes-Benz Gorden Wagener made major alterations to the G-Wagon, a vehicle that has a long history. Project Geländewagen as they call it is a piece of art that transformed the luxury SUV into a race-car concept.
The design retains classic designs including its fairly rigid, squared design. Although, it's interior saw various changes that looks completely different.
Starting with the steering wheel, it features numerous gauges along with a flat bottom and top, a concept that is popular in racing. The dash is much more simple featuring speedometer's and fuel gauges that go back to the analogue style rather than being electronic. Another change that is fitting of its theme is the 5-point seat belt that includes the last name of the two creators. The safety nets and poles give the car great accent colours, red and baby blue go nicely with the primarily white exterior and interior. Project Geländewagen makes the G-Wagon seem bare-bones and simple, yet the pictures look futuristic.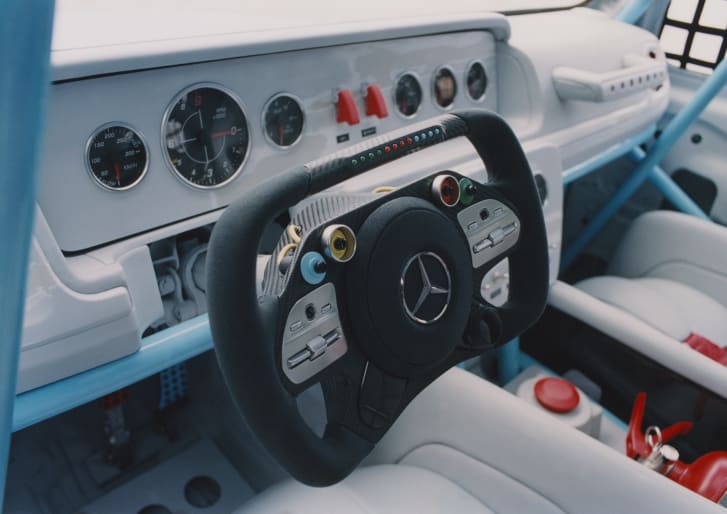 The Project has received lots of eyes and will generate revenues as well due to replica's being sold at auction. The successful collaboration will be able to help future creatives around the world by generating money for charities that support such causes. Watch the walk-around video of the Project car below where Gorden Wagener discusses some of the cars cool features.