A few months ago, Nike released details of the Dior x Jordan 1 collaboration set to release in April 2020. This blend between high fashion brand Dior and one of the most popular brands in basketball and sports culture is a collaboration that hype-beasts didn't know they needed. The release features both high and low versions of the shoe, with a retail price tag of $2000. But of course, the reselling price will be a much higher multiple of that as they are such a rare sneaker.
The shoe takes the body of one of the most distinguished shoes the Jordan 1. The details receive the notable Dior monogram as well as other touches that make the shoe special. The sneaker is a white and grey color scheme that is a traditional color in Dior history. On the hightops, the winged logo says "Air Dior" and on both pairs, the tongue says Dior over the swoosh and Air below.
The famous swoosh on the side has Dior embroidered within it. This is the biggest attraction to the shoe and the most noticeable feature. The other nice touch is its icy bottoms. The baby blue bottoms add a nice accent color to the simple colorway on the rest of the shoe. In addition to that, the bottoms have large writing that says "DIOR" on one shoe, and "AIR DIOR" in the winged logo on the other. A subtle but flashy that compliments the sneaker nicely.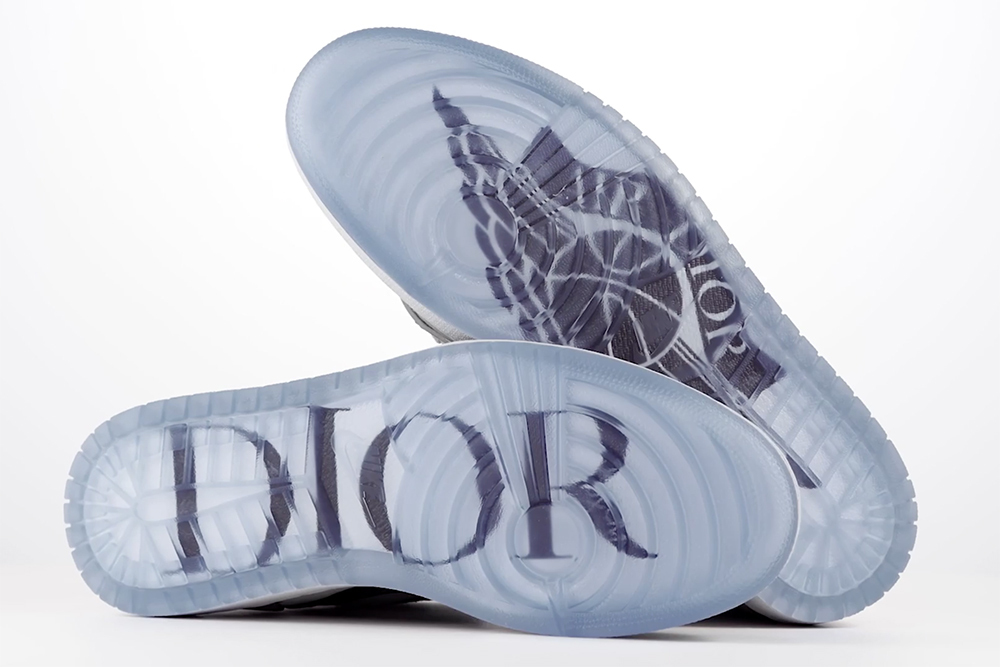 The shoe commemorates the 35th year of Jordan and makes a big splash by being the most expensive retail shoe ever released by the brand. If you were lucky enough to snag this collaboration for retail, you can't go wrong either wearing this historic shoe or selling it for thousands of dollars more than they originally cost.